India is providing scholarships to Nepalese in following streams.
engineering, medicine, agriculture, pharmacology, veterinary sciences, computer application, business administration, music and fine arts, etc.
According to indian embassy, Around 1500 scholarships/seats are provided every year by GOI though the Embassy of India, Kathmandu to Nepali nationals for undergoing various courses at the Ph.D/Masters, Bachelors and Plus-two levels in India as well as Nepal.
Currently,
70 Scholarships are given for studying BE/B.Tech in top engineering colleges in India; 50 scholarships to undertake undergraduate courses such as BBA/Others; 5 scholarships for undertaking Music/Fine Arts courses; and 3 seats for MBBS.
60 Scholarships for undertaking post graduate courses in disciplines like MBA/MCA and other PG level courses.
The Golden Jubilee scholarship scheme was implemented for the first time in 2002-03 under which 100 scholarships are awarded to Nepalese students studying in MBBS, BE/B.Tech and other undergraduate courses in Nepal.
Under the Mahatma Gandhi Scholarship Scheme, initiated in 2003-04, 1000 scholarships are being provided every year to students of Class-XI and XII studying in Nepal.
The Dr. Homi J. Bhaba Scheme launched in 2004-05, provided 20 scholarships to Nepalese students for studying ME/M.Tech in India.
Under a new scheme, implemented in 2005-06, 10 Nepali students are provided scholarships for studying in a reputed public school in India.
Under another scheme launched in 2005-06, 3 students are sent to India for undergraduate and post-graduate studies in Ayurveda, Unani and Homeopathy, and 10 for B. Pharma.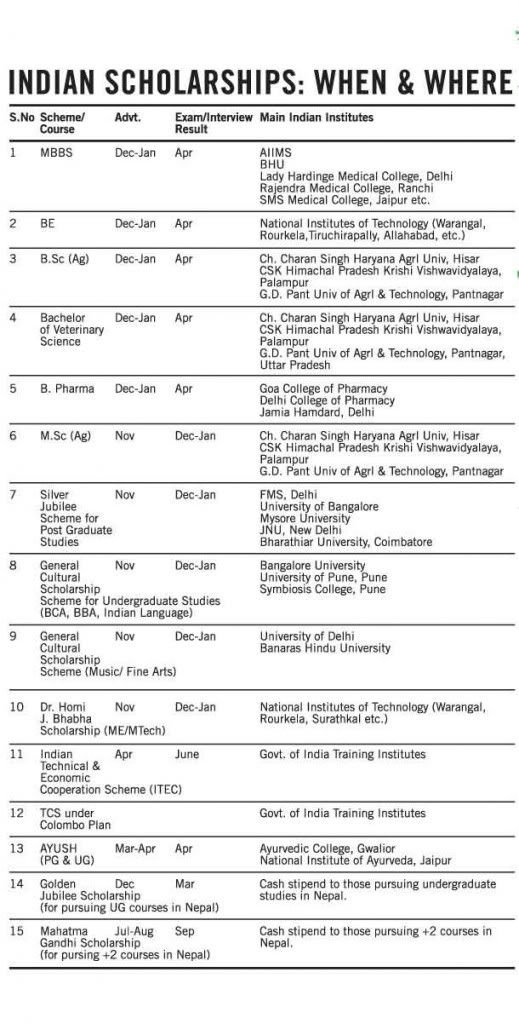 We can conlcude that Indian Embassy is helping Nepali Students in MBBS, BE, BSc Ag, BPharm, MSc Ag, Silver Jubilee Scheme for Postgraduate Studies, Dr. Homi J Bhabha Scholarships, ITEC, AYUSH, TCS Colombo Plan, Mahatma Gandhi Scholarships.
click on image to get it larger !!
for more information click here
Incoming Terms:
itec 2012-2013 + itec india 2012-2013 + indian embassy scholarship + India Embassy Scholarship + yhsm-inucbr_001 + itec india 2012 + Indian Embassy Nepal Scholarship + 2012 100% free online male seeking woman email
search
@yahoo in@gmail com@hotmail in + indian embassy in ethiopia scholarship + i need people that looking for loan to start up business 2012 aol com @ hotmail @ gmail @yahoo mail us + scholarship for nepalese students in india + mbbs scholarships for international students + MBBS scholarship in nepal + itec courses 2012-2013 + 2011 2012 email contact of project DIRECTOR @hotmail ca + indian shoolarship to nepal + itec india 2012 - 2013 + schlorships2011 for women mteck students + SINGH SUMIT @HOTMAIL COM + postgraduate of medicine student in pakistan and china@yahoo com@gmail com + itec scholarship 2012-2013 + indian embassy in nepal +